Roll over image to zoom in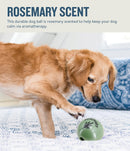 Description
Infused with the calming scents of lavender, rosemary, vanilla, and designed with chewers in mind! These durable balls work well to quench your dog's chewing urges. Made from the award-winning Orbee-Tuff material, which is 100% recyclable and non-toxic. Ball is durable, bouncy, buoyant, and perfect for tossing, fetching, bouncing, and doubles as a treat dispenser.
Size: 2.5" Diameter
Please remember that your dog's safety is your responsibility. No dog toy is indestructible. Choose only toys that are the appropriate shape and size for your dog and always supervise your dog's use of the toy.
Videos
This is a HIT
Ella is a 9 year old Boxer. She loves balls but lately hasn't been real interested in playing with hard plastic balls. I bought the scented softer ball and it is a hit. She Carrie's it around it bounces well and smells like vanilla. She loves it
Payment & Security
Your payment information is processed securely. We do not store credit card details nor have access to your credit card information.
This is a HIT
Ella is a 9 year old Boxer. She loves balls but lately hasn't been real interested in playing with hard plastic balls. I bought the scented softer ball and it is a hit. She Carrie's it around it bounces well and smells like vanilla. She loves it